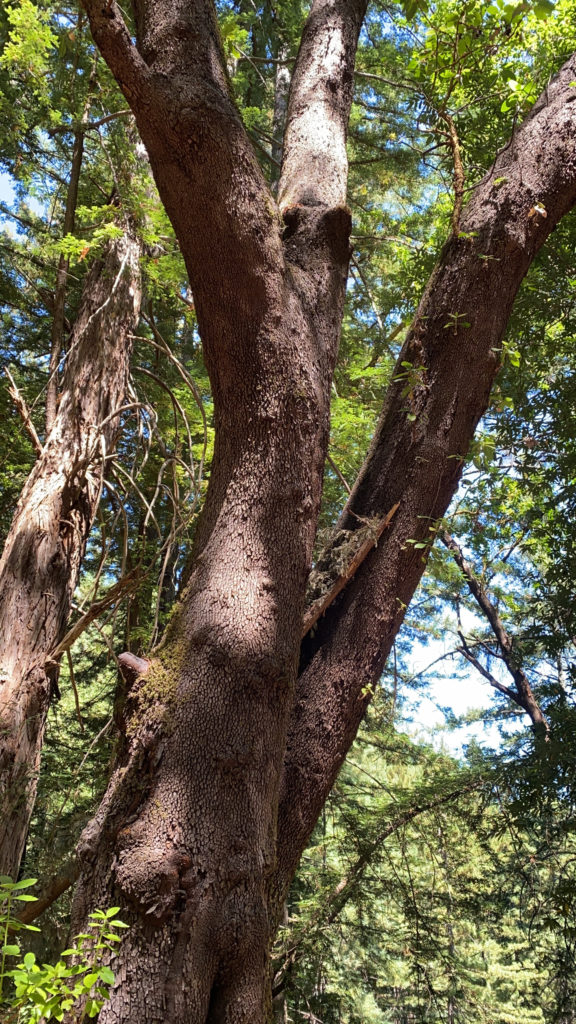 After eating a quick breakfast of granola we piled into the car to go for a hike before it got too steamy. We ended up at the upper half of Wunderlich Park, which is studded with gorgeous old trees. Take a look at this Pacific Madrone! It has such cool reptilian-like bark.
By the way, I'm currently testing out the Seek app by iNaturalist. Seek is this amazing tool that immediately identifies the species you photograph on your phone. It's automagical. I feel a new connection to the plants around me now that I can properly identify them.
We debated how long the hike would be, and ended up going the long way, resulting in a 7.3 mile loop, but no one complained. We ran out of water before we were finished, so I will remember next time to bring more. We didn't encounter very many people, which is nice during a pandemic. Overall it was a hot, peaceful hike.
Upon returning to our car, we noticed how busy La Honda Road was going towards the ocean. People wanting to escape the heat were greeted with a complete standstill. Cars lined all the way near the Portola Road turnoff. We were lucky as we were going in the opposite direction. It's a good reminder that we like to zag when everyone else is zigging. That's how you get the quiet.